Pianoforall Review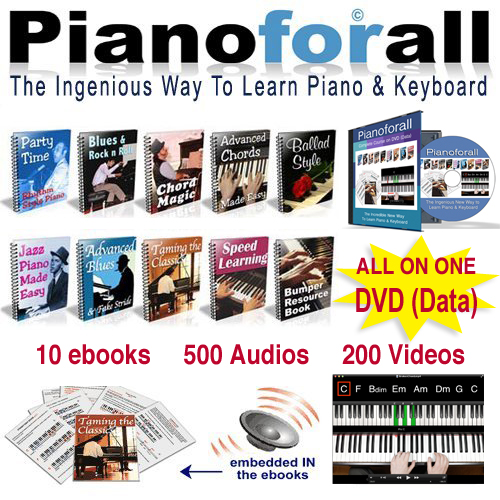 Hello, my name is Ed Malaker I am a musician, and a website designer/computer programmer. I try to put only high quality products that I feel will actually solve problems and help people on my website. I believe Pianoforall to be just such a product and I would like to tell you about it now.
Pianoforall is a comprehensive guide to learning how to play the piano. This is not a learn piano fast book (though you do get playing almost immediately) it is a complete 10 book course that covers every aspect of playing the piano, from beginner to advanced. When you are finished you will be a master of the instrument, not just be able to play a few songs. It is very easy to follow and most of it is accompanied by video and audio. It uses a great method of teaching that not only shows you how to play, but helps you to understand why you are playing the notes you are playing. This approach makes playing more personal, more fun, and easier to understand than just pressing a specific set of keys. Pianoforall also teaches you how to read music using the same easy to follow system. It's like a free course added in. Pianoforall is suited to all styles of music.
One you purchase Pianoforall you will receive a link to the download page in your email. The entire course is downloadable, there is no physical product, and you can be learning how to play just a few minutes after purchase.
You DO need Adobe Acrobat Reader which you can download for free. I tried to use the free reader that came with my Windows 10 but it does not open the videos. Once I downloaded and and installed Acrobat Reader everything looked and worked perfect.
The Books
Book 1 Party Time Rhythm Style Piano – This is where you get started and you will be playing songs in less than 10 minutes. This book teaches you where the notes are on the keyboard and gets you started with chords. You start to learn how to read music and how the notes on the staff relate to your keyboard. You learn the Major scale and all the chords that go with it. You learn different 10 different types of rhythm and dozens of songs.
Book 2 Blues and Rock and Roll – Honestly, they could have stopped after the first book and you would have a great foundation. You would know how to play the piano and a good deal of songs to prove it, but Pianoforall is just getting warmed up. This book teaches you how to play the blues, and you will have a great time learning in the style of Jerry Lewis and all of the greats. Standard blues, boogie, shuffle, 8 bar and 12 bar blues are covered.
Book 3 Chord Magic – This book takes a closer look at the different chords and their inversions. Learn these chords by playing dozens of songs you know and love.
Book 4 Advanced Chords Made Easy – This book really looks at chords in great detail. After this book you will be able to play any type of chord. You will be a chord Jedi! Of course, you learn these chords playing many songs that you know and love.
Book 5 Ballad Style – This book not only teaches you bout ballads, it also teaches you how to start improvising and finding your own sound.
Book 6 All That Jazz And Blues – This book continues to teach you how to improvise in the styles of blues and jazz. It is so extensive that it is broken into 2 parts. You really begin to sound like a Pro when you are doing these lessons.
Book 7 Advanced Blues – This book goes very in depth and covers every aspect of the blues. Turnarounds, scales, and strides, are all covered here.
Book 8 Taming The Classics – This book goes further into detail on reading music, different notation meanings, time signatures etc.. Also includes several classical music pieces to get you learning and enjoying yourself while teaching you about how the music works.
Book 9 Speed Learning – This book covers practicing and memorizing techniques. This book teaches you tricks and tools to learn and memorize every facet of piano playing and gives the reader hundred of exercises to improve their playing abilities.
Book 10 Bumper Resource Book – As the title suggests, this book is packed with great resources for the reader. Everything from what type of keyboard you need to where to get your favorite sheet music is covered.
BONUS Book 11 Increase Your Creative Ability 400% – This book is jam-packed with great ideas to get more creative.
The Verdict
These books are more than up to the task of teaching you how to play the piano. You are constantly playing new songs that you know and love and it really motivates you to keep playing because it's fun. It has really helped me grow as a musician on many levels not just learning piano, but with reading music and even music harmony and theory in general. I highly recommend it. 5 STARS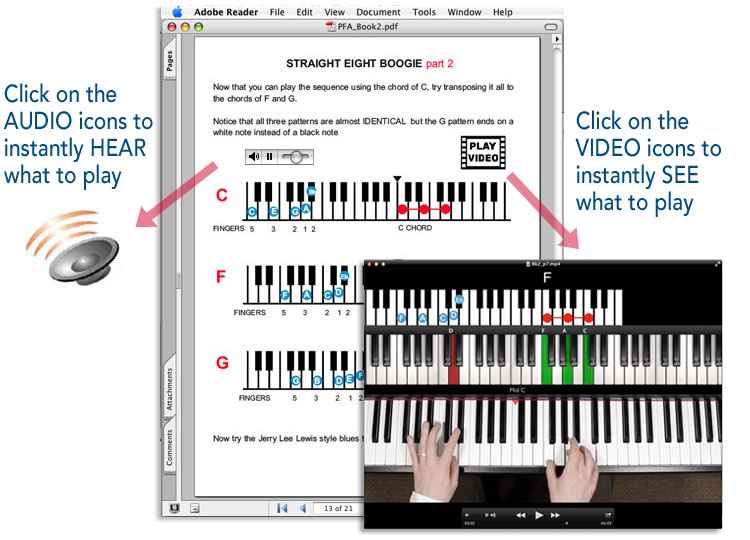 ---